The Coronation
of English and British
Kings and Queens
Beginning with the coronation of James I in 1603 there have been seventeen English-language coronations of English, or from 1714 British, monarchs. Before that, upto and including the coronation of Elizabeth I, the service had been conducted in Latin.
This site will provide the texts of the services for all seventeen English-language coronations, showing the (mostly minor) revisions made each time, and the occasional quite major variation. Throughout all this time the heart of the rite has remained unchanged, and indeed the coronation of James I is essentially a straight translation from the Latin of the mediaeval rite, the Liber Regalis, together with the use of the Communion Service from the Book of Common Prayer, instead of the Latin Mass.
The Form and Order of Service
This page contains a synoptic text of the coronations of 2023, 1953, 1937, 1911, 1902 (both as planned, and as actually took place), 1838, 1831, 1821, 1761, 1727, 1714, 1702, and 1689 in parallel columns. The addition of earlier coronations is in progress, and each will be included as they are ready.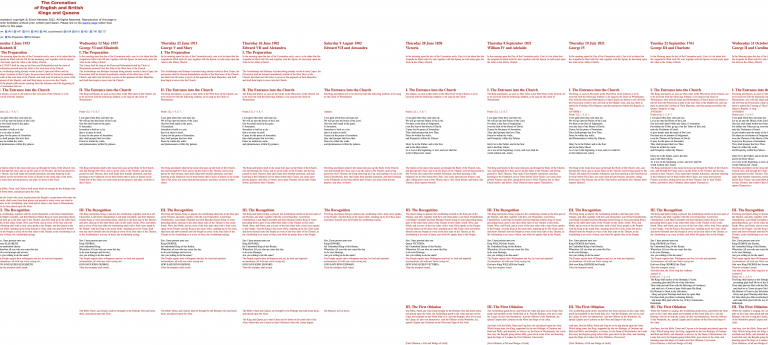 Coronations
Additionally, the texts of these coronations are available separately: currently we provide the order of service for the three most recent coronations, that of King Charles III and Queen Camilla in 2023, Queen Elizabeth II in 1953, and that of her parents King George VI and Queen Elizabeth in 1937.
6 May 2023:
Charles III and Camilla
2 June 1953:
Elizabeth II
12 May 1937:
George VI and Elizabeth
22 June 1911:
George V and Mary
26 June 1902:
Edward VII and Alexandra
This coronation was postponed because of the king's illness,
and a shortened service was held on 9 August 1902
28 June 1838:
Victoria
8 September 1831:
William IV and Adelaide
19 July 1821:
George IV
22 September 1761:
George III and Charlotte
11 October 1727:
George II and Caroline
20 October 1714:
George I
23 April 1702:
Anne
11 April 1689:
William III and Mary II
23 April 1685:
James II and Mary
23 April 1660:
Charles II
2 February 1626:
Charles I
25 July 1603:
James I and Anne
Music
Since at least the Coronation of King Edward VII and Queen Alexandra in 1902, music editions of the Coronation service have also been published. The music page has some information, including Parry's settings of Psalm 122 "I was glad" from 1902 and 1911, and as adapted in 1937, 1953 and 2023.
Ownership
I do not claim any original ownership in these texts or images. However, I did take some trouble to obtain, retype and format them. As a courtesy I ask you not to redistribute these texts and images without my agreement. In particular these texts and images should not be sold in any form whatsoever.
Some of this material may be considered copyright (or the equivalent) in some countries. Anyone wishing to reproduce this text should establish whether this is the case and seek appropriate permission. As the copyright owner of this particular re-typing, my permission is also necessary; please contact me at simon+coronation@kershaw.org.uk.
Sources
Since the Coronation of King George II and Queen Caroline in 1727, the official Order of Service has been printed by the Royal Printer, and published in advance of the service; and since 1902 the Privileged Presses (Oxford University Press and Cambridge University Press) have also published fine editions. In each case, one of these texts has been used here.
Before 1727, manuscript copies of the Order of Service were used at coronations, though from 1685 printed editions were sometimes published soon afterwards. The manuscript copy of the Coronation of Queen Anne in 1702 is particularly fine (see, for example, this sample page from the Archbishop's copy held at Lambeth Palace) and the printed editions from 1727 follow very closely these earlier published texts and manuscripts in text and even in typography. The same forms of words in both speech and rubric occur throughout the series, each coronation being based on the text of its predecessor, back to the last major revision (or recension) made in 1689 for the joint coronation of King William III and Queen Mary II, and back beyond that to 1603.
The 2023 Coronation order of service has been published online by Westminster Abbey, which made minor revisions fronm a version published by the Church of England a few days earlier. The earlier verion was available in two editions, with and without a commentary. For interest both the final version, the earlier version, and the commentary have been included here.
For the coronations of James I and Charles I, scholarly editions of the manuscripts made in the 19th century have been followed.
From 1902, official music editions of the Coronation have been published by Novello, on behalf of the Royal Printer. Wesminster Abbey published the music for the Vivats in 2023.
---
Simon Kershaw
The first version of this page was published online on 11 April 1994.
---
back to An Anglican Liturgical Library and the oremus home page.
---
---